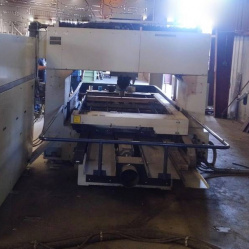 Stock ID: #9880
SPECIFICATIONS:
Year:2006
SPECIFICATIONS
Maximum Laser Power 4000 Watt Co2
Table Size 4x8
Positioning System Design Hybrid
Type Of Resonator Mitsubishi
X Axis Travel 98 inches
Y Axis Travel 49 inches
Z Axis Travel 11.8 inches
Number of Tables 1
Type of CNC Control Mitsubishi


Thermal Care Accuchiller mdl. LQA2003LBX Cooling Unit

LOW HOURS! 24,213 Power ON Hours / 21,435 Laser Hours

Machine was in working condition before being removed from electrical power.

More images