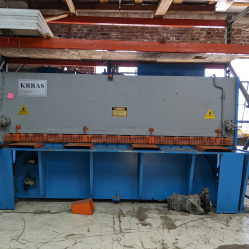 Stock ID: #9788
SPECIFICATIONS:
Year:2007***

********Air powered Sheet Support System at Rear*******************


Krras 10' x 1/4" Hydraulic Shear | Model: RAS 306
Cutting Capacity: 1/4"
Cutting Length: 122"
Variable Cutting Angle: 1° - 3°
Number of Plate Holders: 17
Strokes per Minute: 17 – 35 SPM
Clamp Force: 95 KN
Cutting Force: 170 KN
Back Gauge Stroke: 48"
Motor: 15 HP
Approx. Weight: 12,100 lbs.
Working Height: 34.5"
Dimensions: 148" L x 70" W x 85" H

NEW KRRAS MODEL RAS-306 HYDRAULIC GUILLOTINE SHEARING MACHINE
¼ x 10 mild steel (based on 70,000 PSI tensile)
Electro hydraulic variable rake angle adjustment 1° to 3°
Quick blade gap adjustment – 22 ga to ¼
Individual hydraulic hold downs
48' front operated back gauge with read-out
Shear blades are four sided, quality high-carbon high chrome blades
Hydraulic, full protection against overload through built-in safety valve
Built in ball transfers in table
Audemi Single Axis NC Controller Model PGP-401 Featuring Touch-and-Go, Stroke Counter, Auto-Retraction
********Air powered Sheet Support System at Rear*******************

The blades were recently rotated so they still have 4 good edges. This machine has very little use.

More images