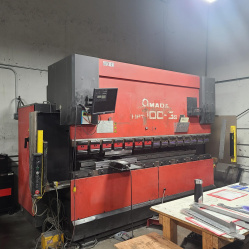 Stock ID: #9530
SPECIFICATIONS:
Year:2004
Tonnage: 110 ton
Bending length: 122"
Throat Depth: 16.53"
Stroke Length: 7.87"
Open Height: 18.5"
Speed:
Approach speed: 7.87"/sec
Bend speed: .393/sec
Return speed: 7.87"/sec
Motor Size: 10 HP

Equipped With:
Operateur 4 axis Back-Gauge
Light guards

Dimensions:
106" H X 150" L X 76" D
Weight 16,000 Lbs.

Youtube Video:
https://youtu.be/YhQ_c3UtOJs



Easy Hands On Controller (CD 2000)
Press Brake control - CD 2000
CD 2000 is a real innovation in the field of numerical Press Brake controls. The new micro-processor CNC is user friendly, functional and offers total control over the bending. It's' simplicity of use, fast processing time and easy interface make it very popular among users. The CD 2000 incorporates two operating modes as standard. This allows the operator to manually move the upper beam (Y1 and / or Y2) and backgauge axes individually or program the press brake using direct angle input.
Ergonomically designed exclusively for AMADA the hand held CD 2000 control allows quick and simple partprogramming by the operator. Robust and equipped with a LCD screen protector, it is very well suited to a production environnement.

The magnetic base allows the operator to easily position the controller any where along the press brake for high production demands .

More images